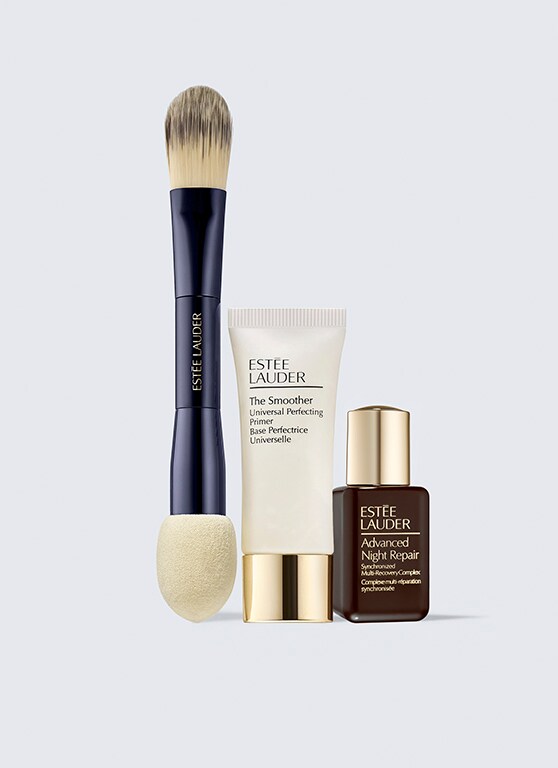 Limited Edition
Meet Your Match
Choose Your Shade Makeup Kit
BENEFITS
4-PIECE SET TO CREATE A FLAWLESS LOOK INCLUDING YOUR FULL-SIZE DOUBLE WEAR STAY-IN-PLACE MAKEUP.
$119.00 VALUE!
$11.00
Product Details
Free Standard Shipping & Returns
Product Details
Be sure to add BOTH Double Wear Stay-in-Place Makeup and this kit to your cart when shopping.
Meet your match! In one kit, get all the essentials to complement your foundation and create a flawless look.
Every kit starts when you purchase your ideal shade of Double Wear Stay-in-Place Makeup, our #1 foundation. You'll also receive:
The Smoother Universal Perfecting Primer, .5 oz./15ml (deluxe travel size)
NEW Advanced Night Repair Synchronized Multi-Recovery Complex, .5 oz./15ml (deluxe travel size)
Professional Dual-Ended Foundation Brush
(Offer is valid only with purchase of Double Wear Stay-in-Place Makeup. Offer is not applicable to pending purchases or previously made purchases. All purchases are subject to bank authorization prior to processing. Only authorized purchases will be processed and shipped. We reserve the right to cancel any order due to unauthorized, altered, or ineligible use of offer and to modify or cancel this promotion due to system errors or unforeseen problems.)
HOW TO USE YOUR KIT AND FOUNDATION
1. Repair and Protect with NEW Advanced Night Repair Synchronized Multi-Recovery Complex.

2. Smooth and prime with the Smoother Universal Perfecting Primer

3. Personalize and perfect with Double Wear Stay-in-Place Makeup in your ideal shade

4. Perfect and blend with your Dual-Ended Foundation Brush