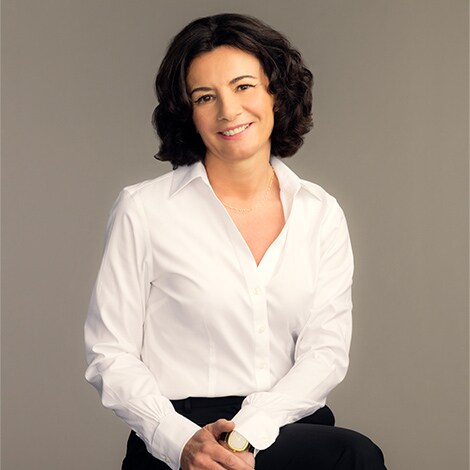 With every launch, AERIN Beauty Founder and Creative Director Aerin Lauder introduces a fragrance inspired by her life, her signature sense of style and her travels around the world. When creating her luxe, timeless collection of fragrances, Aerin works with master perfumers to bring her vision to life.
Honorine Blanc, master perfumer and the perfumer behind several AERIN fragrances, captures the aesthetic, style and heritage of the AERIN brand flawlessly. We spoke to Honorine, who is the perfumer behind AERIN's newest rose fragrance, Rose de Grasse Joyful Bloom. Read on to discover what inspires her to create fragrances and what she loves most about this new signature scent.

What inspires you to create fragrances, and what inspired you for Joyful Bloom in particular?Everything that surrounds me serves as inspiration: my connection with nature, art, traveling to discover new cultures and exploring new olfactive territories. With Joyful Bloom, I wanted to create an effortless rose, keeping it as pure as possible while playing with its many different facets.
Which ingredients came to mind when building this new signature fragrance?
Aerin fell in love with Indian Rose Bourboniana, so I made it the centerpiece of the fragrance. It's also accentuated with other natural ingredients like Turkish Rose Infusion and Rose Centifolia from the original Rose de Grasse scent, aiming to capture the salty texture of a vibrant rose.
Can you describe Joyful Bloom's Floral Rose olfactive?
Joyful Bloom captures the purity of a rose in a garden: It's pink, dewy and crisp with a vibrant, natural and citrus-like effect. Every ingredient was chosen to highlight the Rose. Aerin suggested Geranium for contrast, Blackcurrant Buds for minerality and Italian Bergamot to bring energy throughout the fragrance.
What do you love the most about Joyful Bloom?
I love that Joyful Bloom highlights the naturality of the rose while embracing its imperfections with feminine texture and a smart and modern structure. We used Indian Rose Bourboniana, an exquisite quality of Rose that is lush, pink and sparkling.
Is there one emotion that you feel Joyful Bloom represents?
Joyful Bloom is a fresh and crisp rose that brings a glowing, feminine bliss. It is exuberant, vibrant and colorful.