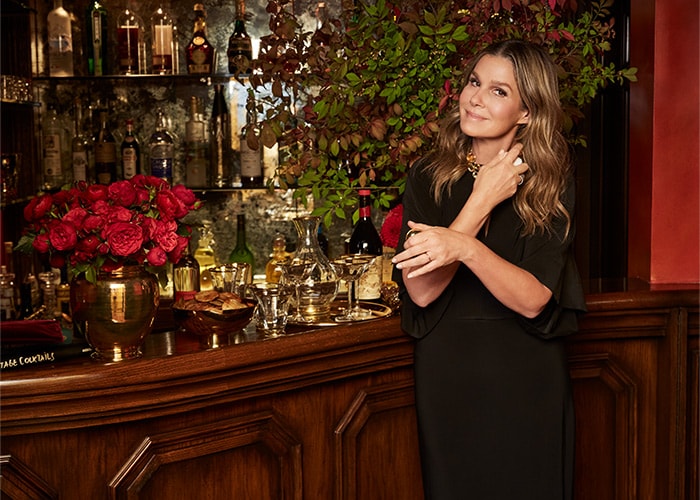 1. Decorate with fresh flowers
Flowers are the perfect finishing touch no matter the season or occasion. During the holiday season, I use flowers to make my home feel festive and welcoming. I'm always inspired by nature and love to bring elements of the outdoors in. I typically incorporate red roses and dahlias, holly branches, rich green magnolia leaves and garlands accented with touches of gold.
2. Pick a seasonal scent
I often choose my fragrance based on my mood or the occasion. Especially during the holiday season, Amber Musk is one of my favorite fragrances to wear. It's very warm and inviting on chilly fall evenings. If I'm going out, I usually wear Rose de Grasse. It is the perfect blend of the most special roses that always feels elegant and timeless.
3. Give each guest a gift
Whenever I entertain, I like to surprise my guests with a little gift at their seat. This is something that I learned from my grandmother, and it always makes guests feel welcomed and excited. Whether it's my favorite chocolates that I discovered during my travels or a pretty fragrance like our AERIN Travel Sprays, this attention to detail really shows your guests that you want them to relax and enjoy. Rose Lip Conditioner is also loved by women of all ages and makes one of the prettiest gifts.
4. Make and share memories
I love to display beautiful picture frames with photographs of special memories in my home, especially those taken during the holidays. It creates a warm, welcoming and comfortable environment for guests. I always capture photos when I am with family and friends so I can remember each occasion and fill more picture frames for many years to come. No matter the season, one of my favorite items to gift is a special frame with a favorite memory.
5. Be a gracious guest
When I'm attending a party or event, I always arrive with a thoughtful gift for the hostess or host. Our AERIN holiday gift sets are the perfect go-to present, beautifully packaged in rich and festive crimson. You can never go wrong with a beautiful candle. They are luxurious, beautiful and can be used in every home.