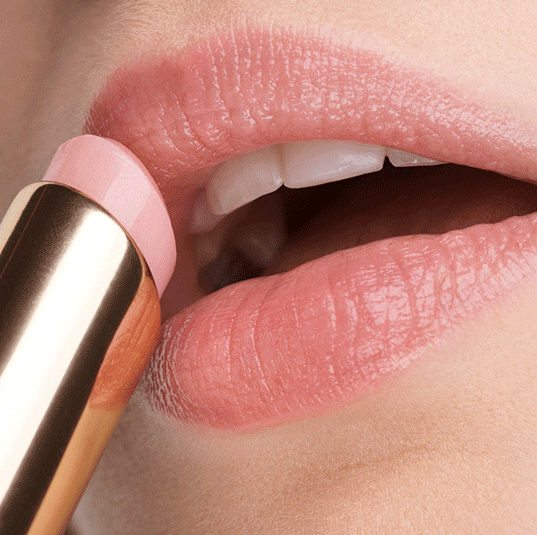 Pure Color Envy Lip Care

Think about all that your lips do for you—they help you say exactly what you mean, they let you kiss the ones you love and they even let you whistle a tune when you're feeling happy. So isn't it time you showed them a little appreciation? Pucker up to the Pure Color Envy Lip Care Collection, featuring Color Replenish Lip Balm, Lip Volumizer, Lip Repair Potion, and Nighttime Rescue Lip Oil-Serum. Here are our favorite ways (and when) to use each of them.
1. The Moisture Bomb
Give your lips a moisture boost with the Color Replenish Lip Balm. Hyaluronic Acid helps attract and capture moisture while the formula reacts with the chemistry of your lips to create a personalized shade of pink. Wear it alone, or as a moisturizing layer under lipstick, or use it as a mid-day refresher.
2. Pump Up The Volume
The instant Lip Volumizer not only mingles with your lips to create a personalized pink tint—it tingles, too! That tingle creates a thrilling plumping effect that makes this formula perfect to layer underneath your usual lipstick for lips that look more sculpted and feel moisturized, but it works beautifully on its own, as well.
3. Revive & Renew
Lip Repair Potion provides all-in-one lip repair to revive, renew and soften your lips. Apply anytime for an enviably revived smile. Trust us, your lips will drink this right up.
4. Sleep On It
The newest member of the Lip Care family, Nighttime Rescue Lip Oil-Serum, is a revitalizing overnight treatment that rescues lips from the day. Think about it: All that talking, eating, drinking—and, of course, lipstick application—puts those lips to work! Give them some nighttime TLC with this luxe formula featuring naturally derived Camellia, Rose, and Lavender Oils.