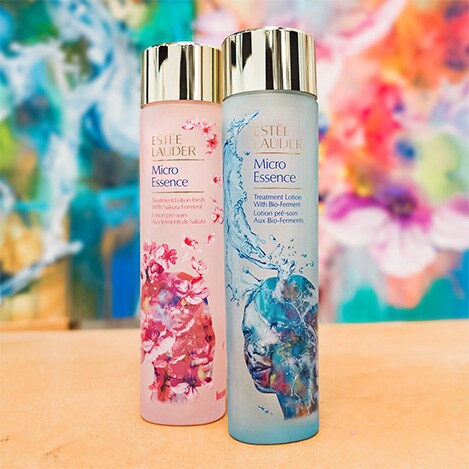 As a brand started by one trailblazing woman, we're passionate about collaborating with women who are breaking boundaries across various industries. Allison Hueman, an Oakland, California-based multi-disciplinary artist, has broken countless boundaries as a woman in the male-dominated world of street art.
Known more simply as Hueman, the artist is notable for creating abstract, ethereal work that can be seen in galleries and on streets worldwide. Now, she's partnered with Estée Lauder to bring our Power Of ME campaign to life. This campaign strives to represent the inner strength in every woman and the strength that our best-selling Micro Essence with Bio-Ferment and Micro Essence with Sakura Ferment deliver to skin.
For this exclusive Estée Lauder collaboration, Hueman has created two limited-edition bottles. They feature ethereal artwork of women steeped in bright colors, balancing the dualities of realism and abstraction, delicate but strong.
Discover more about Hueman's journey, how she defines her art and her real-life approach to beauty.
How do you define your art?
I define my art as "etherealism", a mix of ethereal realism. My work appears somewhat dreamlike. It is light and delicate while examining heavier themes of identity, time, trauma and transformation.
What was your journey to find your style of art?
My journey to find my style of art has always been a mission of finding balance: balancing elements of abstract and figurative, and figuring out how to merge all of my different influences and interests into one image.
My work has so many different layers, and each piece contains a multitude of different types of paintings within its layers. I'm influenced by so many things: abstract expressionism, the light and space movement, street art and graffiti, as well as the Baroque period of art.
Being a street artist specifically influenced the way I view art in the world. I realized how I could create something large-scale and immersive, transforming entire landscapes with just paint.
What kind of person personifies beauty, resilience and strength to you?
Anyone who is willing to be vulnerable. I think showing vulnerability and humility is a sign of wisdom and strength. Mothers especially personify this. I'm currently pregnant with my second child, and the transformation that mothers go through mentally and physically while creating new life is truly inspiring.
What is your approach to beauty?
My approach to beauty: Balance from the inside out. Being healthy and trying to take care of myself radiates outward. I love a classic style with an edge. I love to experiment with so many different beauty looks but I always come back to my staples. My signature look is a thick winged eyeliner.
How did you approach the creation of your art for Micro Essence?
When I think of Micro Essence, two words come to mind: powerful and delicate. So, I thought of two things that represented these two ideas visually: water and the Sakura flower, respectively. I painted the abstract backdrop first by action painting free-handed strokes. I then painted the foreground of water and flowers on top of the background.
This merging of the abstract and representational functions in harmony, in the same way that powerful and delicate does.
How do you connect to the Micro Essence #PowerOfME campaign that celebrates inner strength and overcoming obstacles?
I have always been very adaptable to the challenges thrown my way. During the pandemic, my art practice was threatened since galleries were shut down, and I could no longer travel to paint my mural installations. I pivoted and found a way to create immersive art experiences close to home that didn't require a gallery space or travel.
I had to adapt to my new circumstances, going in a new direction as an artist. And as a mother to two young girls, I've had to figure out how to continue being both an artist and an entrepreneur. I've had to pull from deep within ME to accomplish my work that I'm so proud of today.


DISCOVER