The American love affair with all things French is a longstanding tradition. There's the well-documented obsession with French-girl style and the proliferation of macarons as a go-to dessert; even Estée Lauder herself adopted the moniker "Estée" because it sounded vaguely French, and therefore more sophisticated.
So as an American woman who splits her time between two of the world's chicest cities, blogger Elisabeth Jones-Hennessy is uniquely positioned to uncover the latest style and beauty inspiration in both capitals. A former fashion buyer for Saks Fifth Avenue and Bergdorf Goodman, she then transitioned to beauty and fragrance buying, which led to a job at the luxury fragrance house By Kilian. It didn't hurt that she and its French founder, Kilian Hennessy, fell for each other and are now married. They each have children from previous marriages, so the back-and-forth between New York and Paris is actually borne of necessity (with a dash of glamour, of course).
In light of her stylish lifestyle, we asked Jones-Hennessy to create two looks—one uniquely New York, the other quintessentially Parisian—to celebrate each city. Read on to find out the products she used, plus her tips for stand-out style in both locales.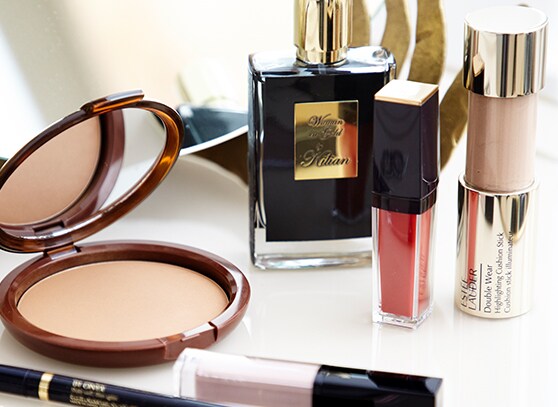 How would you describe a quintessentially Parisian look?
French women have a natural elegance and chicness without trying too hard. During the day, it might be a white shirt, jeans, flat shoes with minimal jewelry, and a fabulous handbag. Makeup is minimal, but they'll look flawless! At night, women are sexier in both clothing and makeup, maybe incorporating a great red lip or smoldering eyes.
How would you describe the ultimate New York look?
New Yorkers are always on the go, so the key is chic shoes that you can actually walk in. I am always on the hunt for that perfect pair! Black is obviously a mainstay. In terms of makeup, it's natural by day but more fun at night, so not that different from Paris. With sophisticated restaurants and nightlife in both cities, people like to step up their looks at night.
What is your first beauty memory?
When I got to start wearing makeup as a teenager, my mom took me to the local Estée Lauder counter and bought me my first products, as well as the Beautiful fragrance, which I had smelled and fallen in love with at a friend's house. I remember feeling so grown-up and ready to take my beauty routine seriously for the first time.
I think we all strive to look 'effortless,' even in those moments when we know it's not.
It seems like American women are always trying to capture the French-girl look. Is it something you also strive for?
I think we all strive to look "effortless," even in those moments when we know it's not. [Laughs]
Is there anything about American women—or New York women in particular—that you think Parisian women try to capture?
It's hard to say. I think women in New York are so diverse, and perhaps that is enviable, because beauty can be found here in so many shapes and skin tones. There is also a level of acceptance and openness that is hard to find anywhere else in the world. This creates a certain type of "attitude"— in a good way!—that makes us New York girls unique.
What does a typical day look like when you're in New York vs. in Paris?
In New York I'm always running around, starting at 8 a.m. when I drop my son off at school, until 11 p.m. when my head finally hits the pillow. Every day is different, but I'm always jam-packed. The funny thing is that in New York I do a lot of 8:30 a.m. breakfast meetings, and that is something that never happens in Paris. I suggested it once to someone over there and she looked at me like I had three heads!
In Paris, my days are less crazy. I'll wake up to have breakfast with my step-kids before they leave for school and then typically take my coffee into the dining room where I have my laptop set up to work. I work from home, so once everyone leaves, I'm much more productive. Occasionally I'll meet a friend for a Dailey Barre Method class in the 16th Arrondissement, and I'll usually have a few lunches organized throughout the week, as well as a photo shoot for my blog. Otherwise, it's much slower and a welcome change to my fast-paced New York schedule.
3 favorite places in Paris:
Caviar Kaspia to eat, shopping for designer vintage on the Rive Gauche, and dancing with friends at Manko, the new cabaret on Avenue Montaigne.
3 favorite places in New York:
Sushi Azabu in Tribeca to eat, Bergdorf Goodman to shop, and MoMA to take in some art.
TO GET THE NEW YORK LOOK:
Bronze Goddess Powder Bronzer
Pure Color Envy ShadowPaint in Sheer Sin
Pure Color Envy Sculpting Lipstick in Impulsive
TO GET THE PARIS LOOK:
Little Black Liner
Pure Color Envy Paint-On Liquid LipColor in Controversial
Photographer: Genevieve Garruppo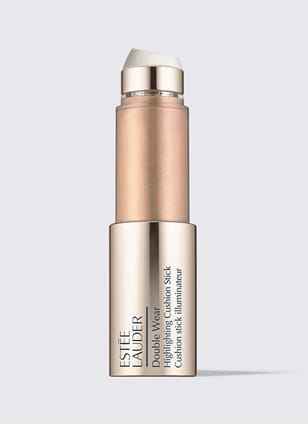 Liquid highlighter + pro tool in one.
8-hour wear.
1 shades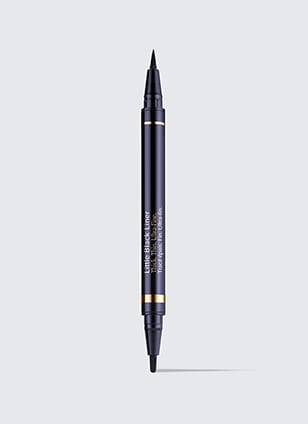 24-hour wear, 3 ways: Thick. Thin. Utlra-Fine.
1 shades