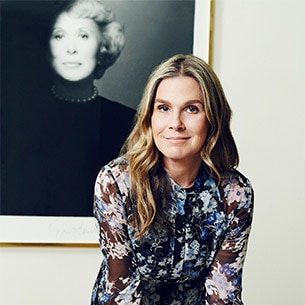 My grandmother always said, 'You only have one face; take care of it.'
We've learned so much from our founder Mrs. Estée Lauder, an iconic businesswoman, a trailblazer in the beauty industry and a beauty expert whose knowledge and influence has inspired generations of beauty lovers across the globe. No one, however, has been more inspired than her granddaughter, Aerin Lauder, who's carried on Mrs. Estée Lauders's legacy as an innovative pioneer in the industry. In a recent interview with The Sydney Morning Herald, Aerin shared invaluable beauty tips imparted from her grandmother—tips that have stuck with her throughout her life and career. Discover more about Aerin Lauder's beauty tips, below.
"My grandmother always said, "You only have one face; take care of it,"" said Aerin. "No matter how tired you are, cleanse and moisturize, stay out of the sun and drink water."
Mrs. Estée Lauder also loved fragrance, and she instilled the same love and admiration in Aerin. She told her granddaughter to never leave home without it. Today, Aerin continues to take cues from her grandmother's style and love of fragrance.
"A blue and white color combination is part of my DNA...these were my grandmother's favorite colors and have continued to inspire me throughout the years," she said.
A number of AERIN fragrances are drawn from this classic pairing, including bestselling Mediterranean Honeysuckle, A refreshing, floral and citrus perfume, It evokes the azure waters and sparkling beaches of the Mediterranean coastline, one of Aerin's favorite holiday escapes.
When she's not dreaming of the Mediterranean, she's immersing herself in one of her newest fragrances, Cedar Violet, an ode to the wide-open wilderness of the Adirondacks in upstate New York.
Layered with bestselling Amber Musk, "It's good for men to wear, too," says Aerin. "The fragrance brings to life a floral woody scent: I love exuberant, bright sparkling florals."
When it comes to her everyday beauty routine, Aerin looks to her iconic Rose de Grasse fragrance. Mrs. Estée Lauder introduced the concept that a woman could buy a fragrance for herself, and Rose de Grasse is exactly this: A fragrance for a woman, by a woman. Included in the AERIN Rose collection is another of Aerin's beauty essentials for lip care, the Rose Lip Conditioner.
"It's a balm that works alone or adds an extra polish over any lipstick," she says. "It has a beautiful light rose scent and is super moisturizing."
Mrs. Estée Lauder's most important piece of beauty advice, though, is one that Aerin has infused into her own life and brand in every respect, something that is reflected in everything from her morning coffee ritual to her fragrance collections: "Everything can be beautiful if you take the time."