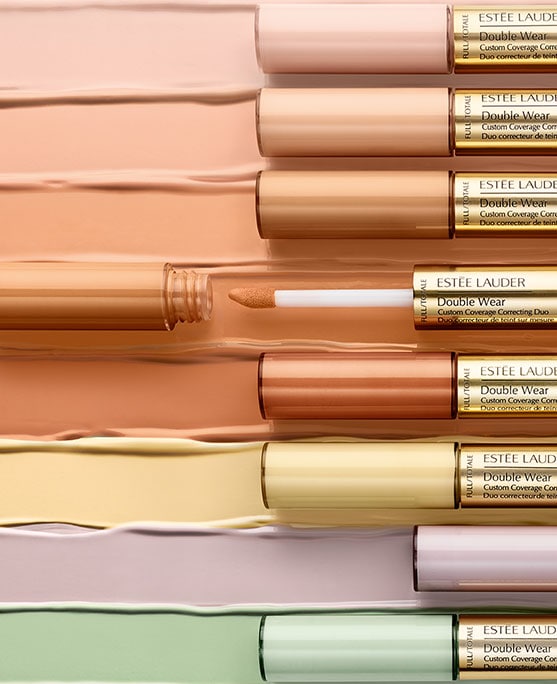 Remember back in grade school when you learned about the color wheel? At that point in life, its only application was to see who could paint the best house or flower. But in the ultimate full circle moment, that little wheel of color turns out to be quite handy when it comes to painting your face. Just as certain shades on the wheel can neutralize each other, the same is true as it relates to your complexion. So pull out your palettes–it's time for art class.
As the world of beauty gets increasingly more advanced and professionally inspired, it's even easier for you to create a flawless skin masterpiece in the comfort of your own home. That's why we launched our new Double Wear Custom Coverage Correcting Duo, which takes its cues from color theory to give you the perfect tones that cancel out any skin nuisance.
It starts with five neutralizing shades of peach, each tested on over 900 skintones to create a broad range of options that combat dark circles and spots for the fairest to deepest skin. If you think back to the color wheel, most shadows on the face, like dark spots and circles, tend to have undertones of blue. Orange sits opposite blue on the wheel, meaning this range of peach hues is perfect for brightening up those shadows.
Next is yellow, which is corrects dullness, and also neutralizes deep dark circles that have more of a purple undertone (which makes sense, since they're the next spots over from orange and blue).
Then there's lavender, which, as the inverse of yellow, offsets sallowness so you look rosy and bright.
Finally, green comes in to help counteract red, meaning things like blemishes, rosacea and broken blood vessels are as good as erased.
Use any of these magic wands before you apply your usual concealer or foundation, and you'll see your usual base routine buff on smoothly with less to cover. Sweep the thinner veil formula with the brush tip over large swaths of skin, like red cheeks or dark circles, then use the opposite end with the sponge tip to target smaller areas. Then step back and admire your masterpiece.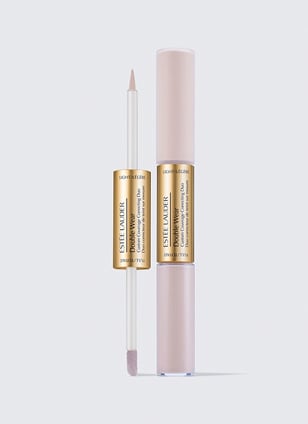 Perfecting duo helps correct uneven skintone and more.
1 shades
Perfecting duo helps correct uneven skintone and more.
1 shades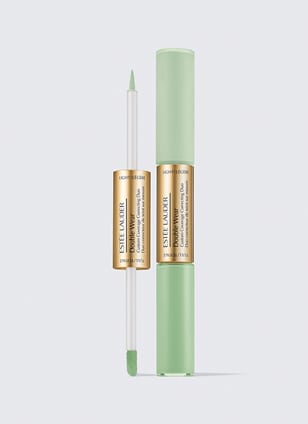 Perfecting duo helps correct uneven skintone and more.
1 shades