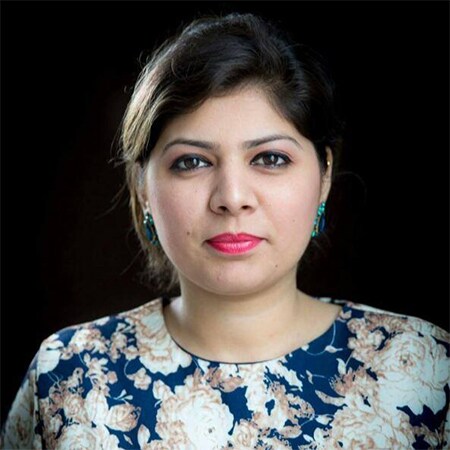 What do you do when you feel a push to create change but you don't know where to start? Where do you focus your energy? Such was the case for Sumaira Ishfaq when she entered the VV Visionaries Program. She felt a desire to help marginalized women in her home country of Pakistan, but didn't know where to start. Through the 7-week immersive leadership experience, a partnership between the Estée Lauder Emerging Leaders Fund and Vital Voices, Ishfaq successfully identified her driving force: to empower and improve the lives of rural women farmers. She's in the midst of putting her plan into action, and in honor of Women's History Month, we caught up with her to learn more about her experience in the program and the inspiration to serve her community.

What fuels your passion for your work?
Being a young woman in a patriarchal society, discrimination against women at multiple levels and forms is a push-factor for me to work for women's empowerment. At both personal and professional levels, I face challenges that hinder my potential to grow and shine, and I am not the only one. The mission to to empower women, especially in rural areas, gives me energy to stay focused and determined.

I consider myself a privileged woman in my society, because I have access to resources and opportunities. Therefore it's very important to me to use my knowledge and experience to help other women around me. We can't achieve a better world without empowering women and girls.

What role did the VV Visionaries Program play in pushing you further toward your goals?
I am working on establishing an organization to empower marginalized segments of society, especially rural women in Pakistan. The Fellowship widened my thoughts to transfer leadership experience to other women in my community, creating a safe and enabling space for them.

What kind of leader are you? Or how would you describe yourself as a leader?
I am a people person, and my leadership style is Transformational Leadership. For me, it is very important to inspire and motivate people to achieve a shared vision. I am working for women's rights and gender equality in agriculture and rural development. But women's rights and gender equality are not isolated issues—these are well-knitted in our social fabric. Only working with impacted women, without changing the behaviors and perceptions of different stakeholders within society, cannot create lasting impact. I believe in creating leadership at the grassroots level for a sustainable solution to problems, and to transfer leadership among communities.
How does it feel to be part of the inaugural VV Visionaries fellowship?
Being part of this cohort of 50 women leaders from across the globe was an enriching experience. It gave me a global perspective of women's leadership. This platform of sisterhood was a much-needed thing in my life. It is a safe space for me where I can share my personal experiences without fear of being judged.

What was the most surprising or unexpected thing you learned or experienced as part of the VV Visionaries Program?
There was a session on "Connecting Across Lines that Divide" that really stuck with me. Working for women's empowerment in a patriarchal society is not an easy task. I face resistance, rejection, and even stigma for my passion. I was not in the favor of engaging those who judged me and I tried my best to avoid them. But during this assignment, I realized that it is important and even productive to keep these adversaries on board in order to implement bold ideas, because they have such a high level of influence in the community. This shift in approach was difficult for me, but also motivated me.

How has your cultural background influenced your relationship to beauty?
South Asian culture has a very strong influence on beauty standards. The perception of beauty in Pakistan revolves around light skin color, long black hair, big eyes, and thin bodies. Women are also expected to be submissive and shy to be desirable. These standards had a very negative impact on me growing up. I am a plus-sized, young unmarried woman in Pakistan, where 95% of people advise me to lose weight to obtain a good marriage proposal. With time and in cultivating relationships with feminists and activists, I have come to see that I am perfect just the way I am.

Resistance is part of my personality, and I show resistance to many beauty stereotypes. I take good care of myself, and it includes mental as well as physical care. I like to get ready for work in my office. I wear vibrant dresses and prominent lip colors and nail polish. I feel happy and more confident when I wear matching earrings with my dresses. My relationship to beauty is different because I am not a traditional or conventional woman. I follow my heart and that's the most beautiful aspect of my personality.

What's next for you after the VV Visionaries fellowship?
During the time that I was in the fellowship, Pakistan faced some of the worst flooding in history that affected almost 33 million people. The country is ranked as the 8th most vulnerable country according to the 2021 Global Climate Risk Index. I am now working with farming communities in some of the remote areas where floods destroyed agriculture and livelihoods. For me, economic empowerment and recognition of women farmers in rural areas is my driving force. I came to this conclusion in the program. My bold idea is to create a leadership of rural women to enable food security in Pakistan. The Fellowship helped me develop an action plan—key tasks, the resources needed, a mechanism for accountability—and this is what I plan to do next.
DISCOVER MORE