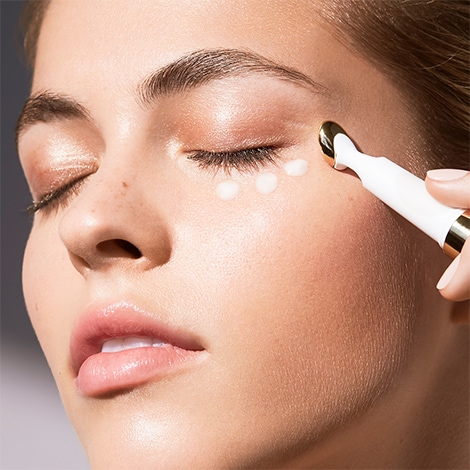 If you've been keeping up with skincare trends over the past several years (unless you're just too loyal to your Advanced Night Repair Serum to notice), then you know that South Korea has been the epicenter of all things amazing when it comes to new beauty happenings. The country has opened our eyes to innovations like cushion compacts and ampoules, and it even revolutionized our lazy-girl regimens with its 12-step skincare routine.
When it comes to achieving flawless skin, however, one Korean beauty trend stands out: glass skin. While Korean glass skin is nothing new (the trend first appeared on our radar a few years ago), it's back and better than ever as women are in pursuit of a dewy, luminous skin.
Wondering what the glass skin trend is and how to achieve it? Keep scrolling to discover a complete glass skin routine, with our best products to create that coveted clear-as-glass complexion.
What is glass skin?
"Glass skin," or, more simply put, clear, glowy skin that's luminous and moisturized, is inspired by a Korean skincare routine that involves applying moisturizing products to your face in order to create a clear-as-glass finish.
How can you get glass skin?
Creating the look of glass skin isn't as difficult as it sounds. You'll need the right combination of glass skin products—a moisturizing and glow-enhancing cleanser, moisturizer, toner, serum, and exfoliators layered one after the other. Want to learn how to get glass skin? Read on for the full routine.
Glass Skin Routine

1. Double Cleanse
We've sung the praises of this squeaky-clean skincare trend before, and to achieve glass skin, it's non-negotiable. The first cleanse will remove any makeup, dirt, or pollutants while the second cleanse should focus on cleaning your skin. Start with an oil-based cleanser, like Advanced Night Cleansing Balm, then follow up with a creamier texture, like Perfectly Clean Multi-Action Creme Cleanser.
2. Tone & Treat
Using a toner or treatment lotion is the next step to reaching the maximum hydration required for glass skin. Pat Micro Essence Treatment Lotion with Bio-Ferment into skin. It's an essence-in-lotion that helps to fortify, soothe and reveal your inner glow.
3. Repair & Moisturize
Once your toner is fully absorbed into your skin, follow with a hydrating glass skin serum. Our Advanced Night Repair Serum is a given here, thanks to its Hyaluronic Acid, which helps attract moisture to skin like a magnet. Then, massage in a healthy amount of actual moisturizer on top. Try Revitalizing Supreme+ Youth Power Creme, which pairs perfectly with Advanced Night Repair to give your skin bouncy radiance
4. Exfoliate
Exfoliation is key to achieving healthy skin, which is the foundation of how to get glass skin. Every other day, take the time to slough off dry, dulling surface cells so skin looks brighter and smoother. Perfectly Clean Multi-Action Cleansing Gelée Refiner gently cleanses and exfoliates at the same time to unclog pores and remove impurities without drying out your skin.
5. Apply An Eye Cream
The delicate skin beneath your eyes also needs extra TLC. The next step in your glass skin routine should be layering on a nourishing eye care product like Advanced Night Repair Eye Concentrate Matrix, an eye concentrate that firms and fortifies while targeting dryness and dehydration.

6. Protect
You've done the work to get that clear, glass-like complexion—now it's time to protect it. Keep your skin radiant, hydrated, and protected all year long with SPF. Perfectionist Pro Multi-Defense UV Fluid SPF 45 helps safeguard the healthy beauty of your skin with a antioxidants and a light fluid texture that seals in skin's moisture.
7. Highlight
Lastly, you can take glass skin to the next level for daytime with your makeup routine. Give your cheekbones, forehead and tip of your nose luminous radiance with Bronze Goddess Highlighting Powder Gelée. Now that you're an expert on the glass skin trend, you're ready to try the routine out for yourself.