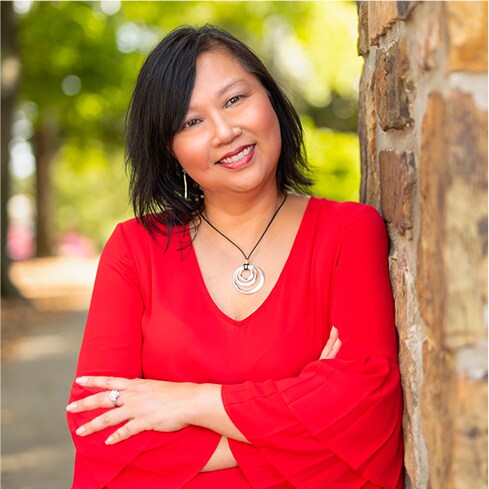 The Estée Lauder Emerging Leaders Fund is dedicated to uplifting women of all backgrounds, all industries, and all areas of pursuit. That's why the Fund has partnered with the Center for Asian Pacific American Women (CAPAW), a nonprofit organization that strives to nurture the Asian American, Native Hawaiian, and Pacific Islander communities by expanding leadership capacity, creating a supportive network, and strengthening communities. Here, we sat down with the Center's President and CEO, Sue-Ann Hong, to learn more about her leadership journey and how she leads her way.

What kind of leader are you?
I am very rooted in relationships and trust. I help other people specifically in the area of leadership, because I'm trying to bridge the gap of access. I'm making sure that it's not because of money or wealth that people get the chance to get leadership education and intel. I'm hoping to provide access and to bust through doors for women who don't have those privileges.

What fuels your passion for your work?
I myself am an immigrant. I came to the United States from Seoul, Korea when I was 8 and moved to the Upper Peninsula of Michigan. My aunt, my mother's older sister, adopted me, and that gave me a roadmap of what a strong female role model looks like. She was pretty brave—unmarried, adopting a child, she was an immigrant herself—and really trying to make a better life.

I'm trying to do my best to support early career women. And I'm fueled by that because I believe we can make a difference if we get women that support early on. This is especially true for Asian-American women in middle leadership—they kind of get stuck. I know it's not about capability; a lot of times it's about perception, and I want to bust through that myth and stereotype to provide these women with opportunities to do more and contribute more.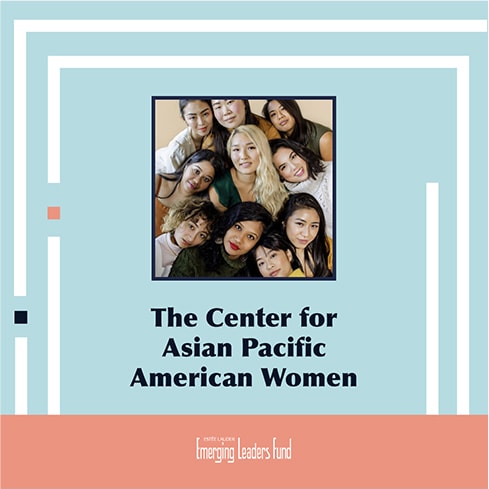 What led you to CAPAW?
I kind of fell into it, but when I look back, I think—maybe not. I was always passionate about leadership development, and I was always pushing people to think about what they wanted to do next, where they wanted to go—that's what I really love.
The Center for Asian Pacific American Women was started by Martha Lee and 18 other Asian American women back in 1994. I took over in 2018 and have really focused on a foundation for the organization. I had to build infrastructure, and then grow it.
I feel like I'm a builder, and I find that I'm good at building things. And I'm hoping that having worked at a Fortune 40 company [Editor's note: Hong worked as an executive at State Farm Insurance Companies for over 28 years] helped me learn how to bring others along to build something together. That collaboration mindset is something I brought to CAPAW. If you really want to make a difference, you have got to collaborate and expand, vs. trying to do everything yourself.
How do you think each chapter of your life has contributed to where you are now?
I'm kind of in a zone now where I'm using everything I bring to the table. And I'm still learning a lot. Learning is a theme—learning is a throughline. Learning agility is one of the most important things.
In my school years, it was all about understanding networking, how to meet new people. I went to Kansas University, so middle of America. Learning how to work with different people and meet different types of friends gave me a broader view of what community looks like.
Then in my early career, I learned the ability to acclimate in any environment. Understanding how to navigate through a different culture when you're the only one, or you're very different, requires you to build resiliency early on. When I first went to work, I knew nothing. I was so naïve. I didn't know how to talk to people professionally. There is a language to business—communication, politics, how to navigate in a corporate environment, understanding expectations. Those are the types of things I learned in those early days, and what inspires me now to help others develop themselves, and to get themselves seen and heard to move up.
Now, heading up CAPAW, this is my truest work. It's what I want to do, the kind of legacy I want to leave, what I care about most—this is it.
How has your cultural background influenced your relationship to beauty?
All I remember is looking at Seventeen magazine and seeing a bunch of Caucasian women. I never associated myself with beauty in that sense. I never really saw that.
How I see beauty now is about your outside beauty matching your inner confidence. It's about whatever is going on internally, raising that up, and putting the whole package together. I love the fact that women can be beautiful in so many ways. And when it comes to beauty products, they're just a tool—an enhancement of who you are already.
What do you want every woman impacted by CAPAW to come away feeling? And what do you hope they do with that experience?
It boils down to three things:

1. I want them to know they have a choice. Sometimes in the course of a career, you think you have to stay someplace for various reasons—benefits, salary, etc. What I would say is, you have a lot to offer, so look around and know that you have a choice. You're in the driver's seat of your life and career.

2. Using their self-confidence. Understanding that their voices matter, so using it. Advocate for themselves, but also thinking about who they're bringing along with them.

3. You're not alone. You have a community, you have sisterhood, and you have a lot of advocates behind you with the network of CAPAW and other partner organizations.


DISCOVER