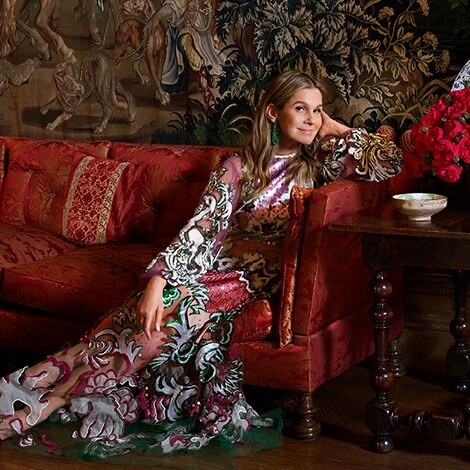 1. What do you love most about the holidays?
The holiday season is one of my favorite times of year. There is nothing I love more than spending time with family and close friends. New York City is so magical during the holidays and I am always excited for all of the festive decorations.
2. How would you describe your holiday decorating style?
I like to make slight changes to my holiday décor from year to year, but it is overall very consistent. My decorating style is classic and elegant, with a modern twist. I typically decorate with seasonal tones of red, green and accents of gold. I love making my home feel very festive with holly branches, dahlias and garlands throughout. I also place pretty AERIN bowls filled with holiday candy, which adds a touch of whimsy to any room.
3. Does your holiday decorating style vary based on locale? For example, your NYC apartment vs your home in the Hamptons or Aspen?
My style remains the same no matter the location, however, I do love to incorporate natural elements depending on what is local. Aspen is always more rustic with pinecones and branches, while New York and the Hamptons are more formal with red flowers.
4. Do you find yourself overloaded with holiday engagements during the season, or are you selective with how many engagements you attend?
It is a balance. The holidays are such a warm and festive time, and I always look forward to spending time with family and friends that I have not seen in a while. However, I do try to balance the festivities with some downtime. It is always important for me to feel relaxed and make time for myself before the new year.
5. Do you have a holiday gifting style? Are you known for giving a certain type of gift?
I love giving gifts that feel meaningful and special. If a friend is interested in a certain style of art or fashion, I will gift a beautiful coffee table book about that subject. I also love to gift beautiful picture frames with photographs of special memories, candles that remind me of inspiring destinations and of course chocolates and fragrance.

6. Do you have a favorite home scent for the holidays?
I love the AERIN Salzburg Pine candle. It is a beautifully subtle scent that combines fresh evergreen with the warmth of cinnamon and clove. It reminds me of an Alpine Christmas, which is cozy and festive.
7. Do you have a favorite fragrance for the holidays?
AERIN Amber Musk is my go-to fragrance to wear during the holiday season. To me, it feels like being wrapped in a cozy blanket on a cold snowy night. If I am going out, I usually wear AERIN Rose de Grasse. It is the perfect blend of the most special roses without being overpowering.
8. Do you have favorite holiday foods?
I love comfort food like roasted beef with potatoes or a classic like chicken hash and rice. For dessert, a Buche de Noel is always a favorite. Plus, the holidays are all about connecting with loved ones, so I like when the food on the table is delicious and uncomplicated, which allows guests to relax and enjoy.
9. What is the number one gift on YOUR wish list this year?
Health and happiness for my friends and family are what is most important.
10. What is the inspiration behind the packaging for Holiday 2021?
The Holiday 2021 packaging print was developed for us by Helen Dealtry. We love her distinct style of hand-painted water-colored florals. We asked her to create a unique pattern using winter florals with delicate touches of gold. We are calling the Holiday 2021 pattern "Festive Florals."
11. Which fragrances are you featuring in gift sets this holiday season?
We are featuring Amber Musk and Rose de Grasse – two of our most signature AERIN scents. We also have a beautiful travel spray duo set that features Amber Musk and Mediterranean Honeysuckle.
12. Are there any dos and don'ts when gifting fragrance?
Fragrance is very personal, so it is important to know about an individual's likes and tastes. However, I often remember when my friends compliment my fragrances and will gift something that they may have particularly liked.
13. Is there any one holiday symbol you consider emblematic of the Season?
There are so many beautiful and traditional holiday symbols, from gold bells, holly, and the Christmas tree, but I especially love an abundant holiday wreath. We have partnered with Lewis Miller Design this holiday to create a signature wreath we are gifting, along with fragrance, to close friends and colleagues for the holidays.