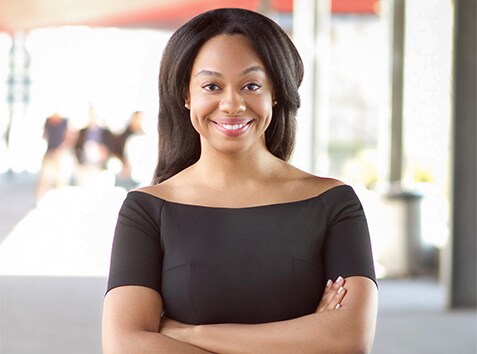 Climate change activists devote their lives to ensuring others don't take Earth for granted, but Alicia White takes this to a truly grassroots level.

"I grew up in Queens, New York, and I would travel to Manhattan and go to Central Park and see all of these beautiful environmental spaces," White explains as she shares the inspiration for Project Petals, the environmental, climate, and community development organization she founded. "And I would think, 'Why don't I have that where I'm from?'"

Witnessing environmental injustice became the catalyst for her work. White wanted to not only create more green spaces within her community, she wanted to use their development as an opportunity to bring neighbors together and to empower a next generation of climate leaders and activists.

"Mentoring young people through my organization's Builders program has helped them gain access to careers in environmental sciences, engineering and green jobs," she says.

But, ironically enough, White didn't necessarily think of herself as a leader. Now, thanks in part to her experience in the VV Visionaries Fellowship, a partnership between the Estée Lauder Emerging Leaders Fund and Vital Voices, White is stepping into her identity as a visionary leader, with bold plans to scale her project for the future. Read on to learn more about her journey.

The story behind Project Petals is so inspiring. What have been your biggest wins since its founding? What were your biggest challenges?
My biggest win was also one of my first projects—getting New York City to transform what was once called Railroad Park, an abandoned stretch of train tracks in Jamaica, Queens, into an environmental conservation project. Another major win was working on the Environmental Bond Act of New York, and getting the legislation passed! The Act will pay for projects that protect clean drinking water, tackle climate change, and conserve natural resources, while creating jobs and delivering environmental justice across the most vulnerable populations of New York State.

In terms of challenges, some of the biggest are receiving adequate funding for my work, and making the city and state governments understand the importance of climate resiliency, especially in BIPOC and under-resourced communities.

What fuels your passion for your work?
Our environment and planet is not an exclusive club. What gives me a sense of purpose is making sure sound environments are accessible to everyone, and working to ensure our planet is habitable in years to come. My passion is also fueled by creating healthier environments, which in turn helps improve overall health for people and communities.

How does it feel to be part of the inaugural VV Visionaries fellowship?
It is such an honor! Through the VV Visionaries Program, I now have a global network of changemaking sisters, which means the world to me. We have learned from each other, encouraged each other, and found new ways to approach our work. We have formed relationships that will carry on throughout our careers. The inaugural VV program helped me to start looking at my work on a global scale, and how, through collaboration, my work could make a ripple effect with global impact.

What was the most surprising or unexpected thing you learned or experienced as part of the fellowship?
Connecting with so many people from all over the world. Even with our unique upbringings and backgrounds, we all shared a common thread of having women in our families who influenced and motivated our passions and really helped cultivate the visionary women we are today.

My most meaningful takeaway is the importance of community. As a social innovator and leader, I have always felt like an island. But this program connected me with a community of women who are all championing their causes globally. My work requires me to be a leader, but I never had formal leadership training. This program has given me the extra tools to take my cause, my work, and my career to the next level.

How would you describe yourself as a leader now?
I am a visionary leader. I am always working on innovative solutions to help improve our planet and environment. I am a leader who listens to the cares and concerns of every community I work in, and I create a plan of action that will not only benefit our world today but will help sustain our environment for years to come.

I'm also a leader who thrives on helping others lead and providing up-and-coming leaders with the tools and resources I wish I'd had to help them make an impact. I am especially passionate about supporting and guiding emerging BIPOC women leaders in their journeys. As a Black woman leader, statistically, my work will be less supported, funded, and valued than my peers. My goal as a leader is to let other women of color know that it is possible for them to achieve their dreams, goals, and aspirations of being a changemaker. While our journeys take longer and are more difficult, when you have a community, it makes the trek a little lighter. Hopefully, one day soon, if we all pay it forward, that journey can be equitable for all of us.


DISCOVER