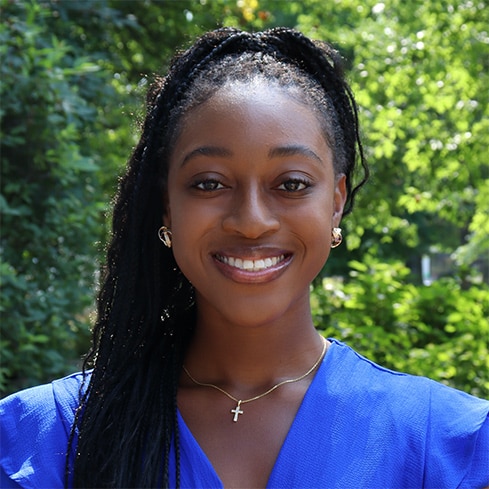 If you've been living your life thinking there are only 24 hours in a day, then you haven't yet met Denia Smith. Smith is a graduate of the inaugural VV Visionaries Program, a partnership between the Estée Lauder Emerging Leaders Fund and Vital Voices, which an immersive 7-week online leadership experience designed to provide women who have a bold vision for change with the tools to advance their own leadership.
But this isn't the only standout stat on Smith's resume. This first-year college student has her own podcast, an internship on Capitol Hill, and a position in the Undergraduate Senate, among other impressive activities. Even harder to believe is that she's just getting started. Read on to learn more about her experience in the VV Visionaries Program*, what led her to activism, and how she plans to pay her new learnings forward.
What inspired you to get into activism at such a young age?
My immersion into activism began when I was 16 years old during the COVID-19 pandemic and the resurgence of the Black Lives Matter movement. As I scrolled through social media while quarantined, I witnessed widespread racial injustices in my community and beyond. I knew I had to do something. I refused to stay silent amid a generational cycle of injustice, and thus organized a march to demand that my community act to protect Black lives. The demonstration brought over 1,000 individuals of various backgrounds together, including school administrators, educators, parents, and students. The march was my first exposure to the power of grassroots activism, and it inspired me to use its momentum to enact systemic change. After that, I created the POC Advocacy: a youth-led organization collaborating with school administrators and educators to implement racially equitable education reform.
From the beginning, I've been driven and inspired by a vision of a better tomorrow. Working with youth activists and educators of various backgrounds taught me that when communities convene, we possess an unwavering determination to build an equitable society for present and future generations. The vision of a better tomorrow isn't fictitious, it's attainable. It empowered me to lead the march and inspires me every day.
How does it feel to be part of the inaugural VV Visionaries fellowship?
It is a blessing to be a part of the inaugural VV Visionaries fellowship. Having the opportunity to join an empowering network of global changemakers, coupled with access to resources and tools to scale our social impact, is life-changing! Throughout the experience, I have connected with trailblazing leaders worldwide and have learned to define who and what a leader is on my own terms.
What kind of leader are you? Or how would you describe yourself as a leader?
I would describe myself as an ambitious and perseverant leader. I always set audacious goals for myself and my organization and set immense metrics to achieve them effectively. I'm a fervent dreamer who loves to envision huge possibilities and work collaboratively in and behind the scenes to accomplish a task. I also don't shy away from challenges; I embrace them as opportunities for growth and strive to overcome them. Amid all of my leadership roles, moreover, is my love of community. I love collaborating with others and conversing with community members to collectively build the society we seek to live in.
What was your biggest takeaway from your VV Visionaries experience?
My biggest takeaway is the significance of identifying my driving force for myself and my organization. Formulating my driving force led me on an introspective journey of reflection and healing. It was insightful and peaceful to reflect upon all that I've experienced as a youth activist—both the trials and triumphs—and consider how these experiences have fueled my work in the present and all I aspire to achieve. My driving force will continue to grow and evolve with me, and I'm excited to witness this as I envision and build the future I wish to see.
What fuels your passion for your work?
When I first led my march in 2020, I was driven by the hope of more equitable educational systems for current and future generations of students. From amplifying the voices of Black women and girls to marching with youth activists for racial and gender equity, my work is fueled by the vision of a more just future for present and future generations. I envision a world wherein Black youth— especially Black girls—can grow up where they are loved, their value is affirmed, and their voices are heard and reflected in tangible policy change.
What's next for you after the fellowship?
I will use the knowledge and tools provided by the fellowship to expand She Shall Speak, a podcast and global empowerment community I created in February 2022 that seeks to empower Gen-Z Black girls to pursue civic service, entrepreneurship, and social justice. We have a reach in 25 U.S. states and 20 countries. I hope to use my newfound skills to recruit a team, launch a new podcast season, and host in-person leadership development workshops to further cultivate Black women's leadership skills. I will also begin my second semester at American University, majoring in Political Science and minoring in African American Studies while obtaining a certificate in Advanced Leadership Studies. In the spring semester, I will complete an internship on Capitol Hill with the Office of Congresswoman Bonnie Watson Coleman, start a new position in the Center for Diversity and Inclusion, begin my term in the Undergraduate Senate, and step into my role as Vice Chair of PERIOD. Movement's Youth Advisory Council. Through all these opportunities, I hope to lead through a social justice lens and learn more about how I can contribute to achieving equity and justice in society.
Those are some major plans! How do you plan to pay your experience forward for other women leaders?
By empowering them to boldly envision a better world and to bring that vision to fruition. I am accomplishing this through She Shall Speak, and by amplifying the voices of Black women who are enacting change while cultivating a digital community for young trailblazers, I seek to create a safe space where women leaders feel heard, embraced, and equipped with the tools and networks needed to best serve their communities.
How has your cultural background influenced your relationship to beauty?
As a Black woman, my relationship with beauty has evolved throughout my life and is best exemplified by my natural hair journey. Growing up, my definition of "beautiful" was akin to whiteness. After facing hair discrimination throughout elementary and middle school, I decided to perm my hair, thus causing it to be straight. Despite the ramifications of the perm, I embraced my straight hair, primarily due to fearing the scrutiny I would face by having curly hair.
My shift in my perception of my hair occurred upon attending Black Girls Lead!—an annual leadership conference for Black girls held at Barnard College, Columbia University. Witnessing Black women and girls wear their natural hair with pride and confidence redefined my definition of beauty. I discovered that beauty is defined within and is a love of my most authentic self. After the conference, I began my natural hair journey and now rock my afro with love and pride; my authenticity is the most significant expression of beauty I've ever known.
Follow Denia @SheShallSpeak and @DeniaSmith_ on Instagram; listen to She Shall Speak on Spotify, Apple Music, Google Podcasts, Amazon Music, and iHeartRadio.
*Do you have an unyielding vision of your own? Applications for the 2023 VV Visionaries Program are open now! Learn more here.
DISCOVER