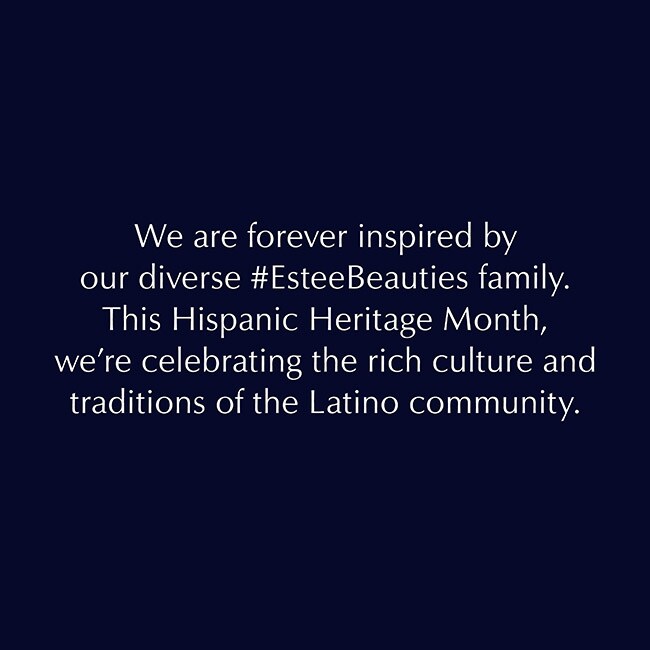 Hispanic Heritage Month celebrates and recognizes the contributions Americans of Hispanic descent have made to American society and culture. It also honors five of our Central American neighbors who celebrate their independence in September.
We are forever inspired by the diversity within our Estée Lauder community. This Hispanic Heritage Month, we're thrilled to highlight the stories of two recent graduates of our inaugural VV Visionaries Program, a 7-week immersive virtual leadership experience that our Estée Lauder Emerging Leaders Fund developed in collaboration with Vital Voices Global Partnership, to support women with a daring vision for change. Read on to learn more about these incredible women leaders and how their Latino heritage inspires and influences their work.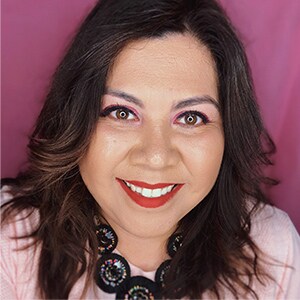 DOMENICA ESCATEL
Founder of Chicana, Inc.
Modesto, California
What fuels your passion for your work?
I think it started all the way back when I was a consultant for a direct-to-consumer cosmetics brand. I always say that I didn't choose this passion, it chose me. I didn't wake up wanting to be a consultant, I just did it to help pay my student loans. But with each sales experience, I gained more confidence. One of the first referrals I got for a customer was an older Latina woman whose husband had just passed away. Her daughter referred her to me because she wanted to gift her a pick-me-up. She just told me, "Bring lipstick."

This woman and I bonded really quickly because we were both from a Latino background from Mexico. And as she was trying the makeup, she started crying. I was mortified, because I thought, "What did I do wrong?" But she quickly explained that it wasn't me—it was that no one had ever taken the time to show her how to take care of herself. Her body language went from closed off to confident. Each new experience like that gave me more confidence, too.

What was the inspiration for your non-profit, Chicana Inc.?
I was in a transitional state of how do I turn my passion into a business that also does good? I wanted to be in a space of women who looked like me, sounded like me, had my background—but there was nothing around me.

I attended a conference in Los Angeles with 1,000 Latina women from all walks of life, just sharing their stories and backgrounds. It was amazing! But I'm from outside Sacramento, and I had to travel six hours to be in that space. And I thought to myself, "What a disservice to me and my community," because I didn't know all of the options I really had. Part of my motivation is just to be able to say that your zip code doesn't have to be your future. Giving accessibility to my community, focusing on underserved communities, I was able to leverage that model of bringing women together to learn from each other. When I realized I couldn't get a seat at the table, I decided to just launch "the table."

How does it feel to be part of the inaugural VV Visionaries fellowship?
Firstly, it was a full-circle moment. Estée Lauder was the first brand I used when I started wearing makeup when I was 16. But the confidence that I got, just being connected to women globally, was so inspiring. It's so instilled in us that [as a career] you have to do this 9-to-5. And this cohort really inspired me that I need to break that. I need to pay attention and just take the steps to go for it and try the things that I've always wanted to do.

How has your background influenced your relationship to beauty?
Makeup is always a conversation piece. "I love your eyeshadow; how'd you get your lashes like that; how do you do your winged liner; what color lipstick is that." Beauty has always followed me, but I never stepped into it until this year.

This [VV Visionaries] cohort gave me the opportunity to finally kind of see it, because I wasn't seeing it before.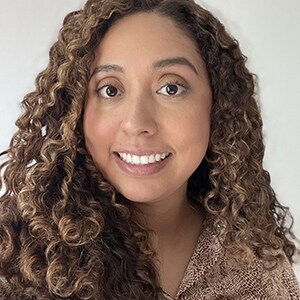 JENNIFER BARRERA WANDREY
Co-founder of Beyond Great
Houston, TX
What was the inspiration for your non-profit, Beyond Great?
It was born from a group of friends I met in grad school. We were all professional women of color, from different backgrounds, getting our MBAs. We got each other through grad school—we were a support system for one another. After school, we really wanted to stay together. So although we had just gone through business school, we started a nonprofit—it was a way for us to stay connected but also help our communities.
What sort of work does Beyond Great do?
It's focused on getting young women the resources to be leaders, and to give them the experiences and opportunities that we didn't have when we were younger. Even the most basic skills, like what to wear to an interview. We work with girls from middle school to high school. Girls who need or are looking for extra leadership opportunities. They come from all different backgrounds, but we focus our efforts on lower socioeconomic areas—areas that most of us grew up in, because we want to give back.
What kind of leader are you?
As a Latina and a woman, I find that my identity impacts my leadership style daily. Going through school, I didn't have anyone around me who knew the ropes. It was difficult getting through the system and figuring it out on my own, but I'm glad I stuck to it. This impacts the work that we do. Keeping in mind the importance to serve the community, I have found that it is crucial to always be an example to others in both work ethic and how to treat people. My identity helps me stay grounded and work toward serving the same communities that I came from.

How does it feel to be part of the inaugural VV Visionaries fellowship?
It served multiple purposes, actually. We started Beyond Great in 2019, right before the pandemic. We had a couple of in-person events, and then Covid hit. So everything was kind of put on pause, and since then we've had a tough time getting back into the groove. That's what led me to apply to VV Visionaries, because it would give me a road map and some additional skills and connections.

Not only did it give me that road map to move forward in my work, but I can bring that experience back to the seven other women I work with. It also helped me feel more confident about myself and my skills and the spaces I belong in.

What was your biggest takeaway from the program?
Before the program, it could often feel like, no matter what I did or how hard I worked, sometimes it felt like I didn't belong in a space. VV Visionaries opened my eyes to how other women see me and how we can empower each other. Everyone in the group was so positive. That opened me up to really owning my accomplishments. Reminding myself that, "You did all this," and owning that.