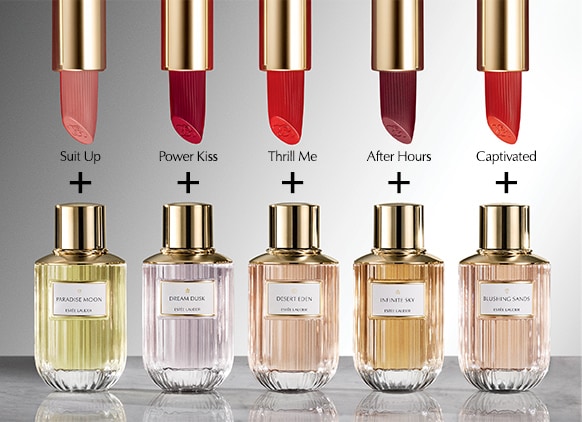 The bright dress that makes you happy and your favorite perfume for a confidence boost aren't just in your mind—they're proven by science. Colors and scents evoke emotions, so create the mood you're going for and a look you'll love with our favorite combinations of Pure Color Lipsticks and our Luxury Fragrances.
When you want to feel... TIMELESS
816 Suit Up + Paradise Moon
Whether you're preparing to nail your next interview or go to brunch with friends, this combination will make you feel fearless and ready for anything. Glide on 816 Suit Up for a classic nude look, and don a leather floral spritz of Paradise Moon to enhance happiness.
When you want to feel...SENSUAL
666 Captivated + Blushing Sands
Radiate sophistication and poise with this enchanting color/scent duo. The sensual shade of 666 Captivated allows you to charm anyone in the room, while the warm, spicy scent of Blushing Sands enhances feelings of relaxation.
When you want to feel...FEMININE
888 Power Kiss + Dream Dusk
Who says femininity isn't powerful? Strike your perfect balance of both with the fierce shade of 888 Power Kiss. Finish it off with our cherry blossom-infused Dream Dusk for an uplifting and cheerful scent.
When you want to feel...EDGY
682 After Hours + Infinite Sky
This one is for the rule breakers. The sultry plum shade of 682 After Hours will bring out your rebellious side, while the spicy amber scent of Infinite Sky empowers you with risk-taking courage.
When you want to feel...CONFIDENT
699 Thrill Me + Desert Eden
Trying to keep it cool, calm and collected? Channel effortless French-girl style by wearing 699 Thrill Me—the bold, show-stopping red lip that elevates any look. Finish with the elevated rose-tinted scent of Desert Eden.