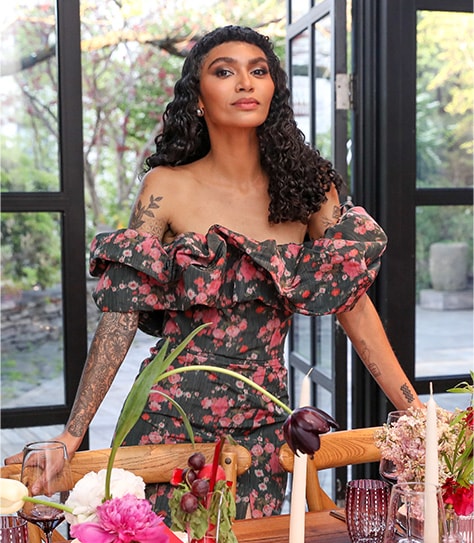 For Sophia Roe, award-winning chef, writer and host of Counter Space, nutrition and conscious eating is at the center of everything she does. An artist in the kitchen and an advocate for diversity and inclusivity in the culinary world, she's spent much of her 14-year career sharing honest takes on wellbeing through food and fighting for those who may not have access to it.
As the chef and menu designer for Estée Lauder's dinner celebrating our New Nutritious Collection, Roe connected her passion for nutrient-dense food with star Nutritious ingredients like Coconut Water. She created recipes inspired by this new collection, including a Green Curry cooked with Coconut Water as one of the main dishes at the event.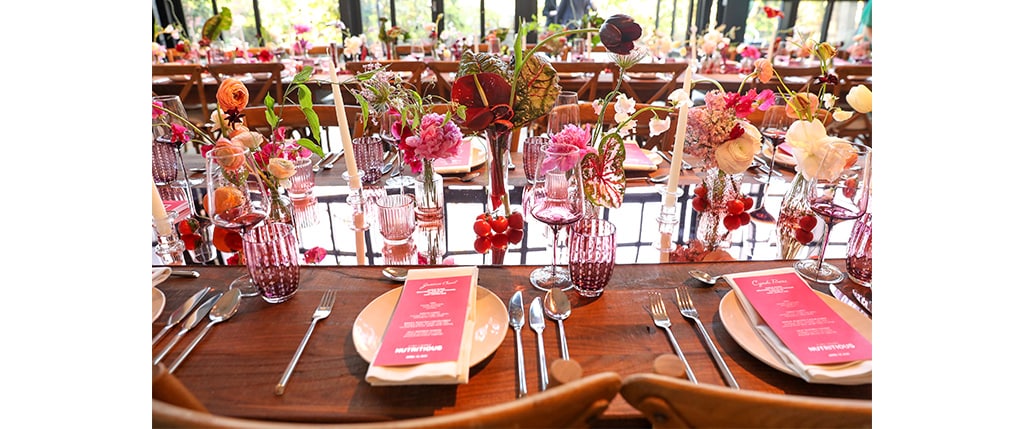 Read on to learn more about Roe's relationship with food and wellness, the inspiration behind one of her Nutritious-inspired recipes, her advice for shopping local and more.
Talk to us a little bit about your journey with food—how did you get your start as a chef?
I grew up very food insecure and really didn't have much support or direction as a young person. I started cooking professionally at 19 years old just to make ends meet, and the rest is history. Food has changed and saved my life in so many ways and thank goodness for that.

The New Nutritious Collection was inspired by Nutrigenomics, an emerging science that analyzes how nutrients talk to biological pathways that impact health. Can you share a bit about your own philosophy on food and nourishment?
I believe in eating consciously, mindfully and always appreciating the human labor, climate labor and the time it takes for food to get from the farm to our plates. The fact that grocery stores are brimming with food is no small feat. There are many different processes that must happen just perfectly for us to get nutrient dense foods. Therefore, it's crucial to not just appreciate the food itself, but the human beings and planet that make it all possible.
What is the best way to shop for local ingredients?
Find out what grows natively in your area and see if there are any farmers market or small farms around that are growing or have access to sourcing those foods. Community and crowd sourcing information is always a great start.
What is your advice for anyone looking to start their own wellness journey through food?
Everything starts with being more mindful about your consumption. It's important to really think about all the work, labor, and environmental work that goes into what we eat. Eating more mindfully is definitely the first step in starting a wellness journey through food.

Tell us about the recipe you created and how you were inspired by the Nutritious Skincare Collection?
There's something so festive about a whole roasted cauliflower. I used coconut aminos, which is made from the sap of the young flowers of a coconut tree. I also utilized powdered nori as a garnish for a rich earthy flavor as a finish. Both coconut and algae are important ingredients in the Nutritious collection, so having them be the keystone flavor profile was very important to me.
What is your approach to beauty? How do you select the products you use?
I'm very much a "less is more" kind of gal for sure. I like to use products that are super effective and high-performance while also being environmentally conscious.
Can you give us a sneak peek into your everyday beauty routine?
I can't stress enough how scaled back my routine has become. I only have two steps in my skincare routine: cleanser and moisturizer. If I'm having a breakout, I'll use the Nutritious Radiant Essence Lotion between my cleanser and moisturizer.

Sophia's Whole Roasted Cauliflower Recipe, Inspired By Nutritious
WHOLE ROASTED CAULIFLOWER
kumquat tahini | furikake | black urfa chili | black lentil
*This is enough seasoning/marinade for approximately 6 small or medium cauliflower
Ingredients:
1 1/4 cup extra virgin olive oil
5 tbsp Dijon mustard
5 tbsp miso
4 tbsp maple syrup
5 tbsp coconut aminos or soy sauce
5 tbsp. champagne vinegar
3 tbsp ginger, finely minced
1bsp smoked paprika
1/2 cup nutritional yeast
1 tbsp freshly cracked black black pepper
1 tbsp furikake
1 cup chopped dill
1 cup chopped parsley
1 cup chopped basil
zest and juice of 3 lemons
kosher salt to taste
1/3 cup water
Directions:
Preheat oven to 400 degrees. Trim outer cauliflower leaves. Discard stalk so cauliflower can sit flat in Dutch oven. Mix all remaining ingredients except lemon zest and fresh herbs in a bowl to make the seasoning marinade for the cauliflower. Put 1/3 cup of water inside a Dutch oven, along with cauliflower. This creates steam and is what makes the cauliflower so tender.
Using a pastry brush, liberally brush half of the seasoning/marinade all over the cauliflower. Once coated liberally, place a lid on cauliflower and cook for 35 to 40 minutes. While cooking, add lemon zest and chopped herbs of choice to remaining seasoning/marinade.
After 35 to 40 minutes of cooking, turn oven temperature to 450 degrees and remove the lid. Apply/baste more seasoning/marinade to cauliflower. This will ensure extra flavor and a gorgeous brown crust on the outside. Cook for another 10 to 15 minutes, then remove from heat and allow to cool 3 to 5 minutes. Once cooled, apply the rest of the seasoning/marinade or herbs. Serve immediately.

COCONUT BLACK LENTILS
Ingredients:
2 cups black lentils
5 cups water coconut water
1 tbsp sugar
1 cup water
1 tsp kosher salt
*This should make approximately 5 cups lentils

Garnish with garnish-edible flowers, furikake, shredded nori, thinly sliced scallions and black urfa chili

*This dish is meant to be roasted so it's tender and cuts easily like cake, but still holds its shape.