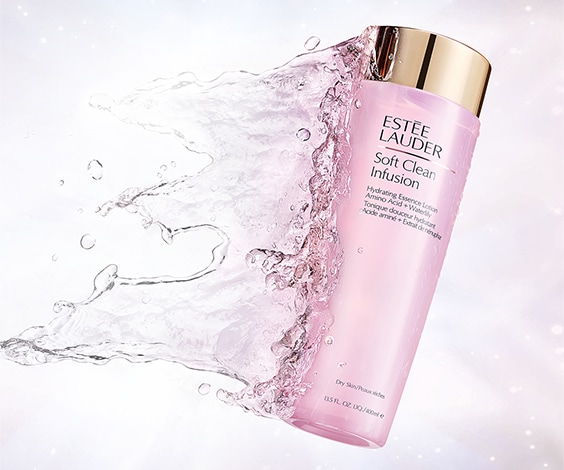 Treatment lotions are taking the skincare world by storm, but what is a treatment lotion and where does it fit in with the rest of your skincare regimen? Discover all you need to know about this extra TLC step your routine might be missing.
What is a treatment lotion?
Sometimes called an essence or a watery lotion, treatment lotions are the perfect 'extra care' step in anyone's skincare routine. They penetrate skin's surface so skin feels more hydrated, soft and supple.
Why do you need a treatment lotion?
A treatment lotion for skin can help if you struggle with dehydration, dullness, excess oil, signs of aging and other common skin concerns. These formulas can help optimize your skin's ability to absorb serums and moisturizers to help skin maintain moisture throughout the day.
What is the difference between a treatment lotion and a toner?
The difference between toner vs. treatment lotion can be tricky, but there's one major difference between the two. A treatment lotion is different from a toner because toners help with removing impurities, whereas treatment lotions are mainly for adding hydrating (and other) ingredients.
What is used first, toner or treatment lotion?
Toner and treatment lotion are used in the same step of your routine after cleansing and before repair serum. But be sure to use only one of these formulas in your routine at a time—either a toner or a treatment lotion.
Where do treatment lotions fit in your skincare routine?
You can use a treatment lotion daily in your morning and nighttime skincare routine directly after cleansing. Our Estée Lauder treatment lotions are gentle enough for everyday use.
What treatment lotion is best for your skin type?
Estée Lauder treatment lotions are formulated to target different skin concerns. If your skin is feeling dry, Soft Clean Infusion Hydrating Essence Lotion provides deep hydration, leaving your skin feeling soft, dewy and smooth.
Our best-selling Micro Essence Treatment Lotion with Bio-Ferment is ideal for normal to dry skin. The formula hydrates to minimize the appearance of pores, soothes, softens and fights redness. Micro Essence Treatment Lotion Fresh with Sakura Ferment, loved by those with normal to oily skin, reduces the look of pores and minimizes shine.
What are some of the key ingredients in Estée Lauder treatment lotions?
Estée Lauder Soft Clean Infusion is formulated with good-for-skin ingredients like Waterlily Flower Extract and Amino Acid15 Complex to help amplify moisturization within skin's surface.
How do you apply treatment lotions?
Apply treatment lotions to your face directly after cleansing. After choosing a treatment lotion formula, gently press a few drops of product into your face with clean fingertips or sweep on with a cotton pad. AM and PM. Let the product fully absorb into your skin before applying serum, eye cream and moisturizer.